RESUME
About Akiko Iwata | Landscape Architect / Arts and Crafts Designer
Education:
Master of Landscape Architecture, Cornell University (graduated with Honors) , Ithaca, New York, USA;
1998
Denmark International Study Program, University of Copenhagen, Copenhagen, Denmark
1998
Kuwasaw Design School, Tokyo, Japan
1993
Bachelor of Arts, Department of Education, Nihon University (graduated with Honors) , Tokyo, Japan
(with Teaching License of English as second language for Junior High School Level in Japan)
1989
---
Professional Experience:
| | | |
| --- | --- | --- |
| Ai Design Creative Studio | Fort Lauderdale, Florida, USA | 2010 – Present |
| E D S A (Senior Associate) | Fort Lauderdale, Florida, USA | 1998 – 2010 |
| Designworkshop (Intern) | Aspen, Colorado, USA | Summer, 1997 |
| Taisei Corporation (General Contractor) | Tokyo, Japan | 1989 - 1995 |
---
Lectures / Teaching Experience:
• New Trend of Landscape Architecture at Kume Sekkei, Japan
2009
• Lecture & Discussion "Resort Landscape" at Kume Sekkei, Japan
June, 2005
• Nihon University Architectural Forum No. 14, at College of Science and Technology
Department of Architecture, Surugadai Campus, Japan
"Between Theory, Creativity, Concept, and Practice – The Profession of Landscape Architect"
October, 2002
---
Computer Skills:
AUTOCAD, Adobe Creative Suite: Photoshop, InDesign, Illustrator, Microsoft Office Suite
---
Languages:
English, Japanese, currently learning Spanish for business use
PERSONAL JOURNEY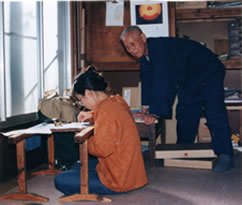 She was born in Tokyo, Japan. After living in the foreign country for a few years in the childhood she came back to Tokyo and started to wonder what the nationality represents and where we all originally came from during adopting herself into Japanese school.
Interests in design and art started from the childhood watching the grandfather's work and learning his craftsmanship. He was a traditional Japanese embroidery craftsman and artist.
She graduated from Nihon University with the bachelor degree in Education field and acquired teaching license for English as the second language. Graduation thesis was "Development of Higher education for women in the United States" that was the study of the relationship among its educational system, architecture of the school building and landscape of campus planning at Vassar College in NY State and it received the honor award for the graduation.
She started to work2at a major general contractor, Taisei Corporation for Environmental Protection Department in 1989. While devoted into the development of Computer Graphics technique for before and after 3D image simulation to evaluate the landscape for the proposed projects as part of environmental assessment reports, she involved internally and externally several initiatives for corporate identity, environmental sustainability, philanthropy, cultural art & music events etc.
In 1995 She went back to the original interest in "Design".
She left Tokyo to study landscape architecture at Cornell University in NY. She explored the three dimensional interpretation of human histories and the nature without literal expression in the space in landscape design as well as learned the skills of landscape architecture to be a professional. She lived in Denmark for 6 months to learn Danish landscape architecture during Cornell years. Graduated with Master degree at Cornell with honor in 1998.
She worked for Landscape Planning and Architecture firm in Florida for 12 years and devoted into national and international various landscape projects. Four projects won Honor Design Award by FASLA in Florida during 12 years. While working as landscape architect being active as an artist and writer. Creativity for her comes from the collaboration networking among the different professional fields beyond the border. She has traveled many different places in the world and is capable to blend herself into any cultures to build trust and work together with people. She is believing in sharing ideas and skills to do better work and building trust with collaborators is important for successful projects.
She is currently working a free-lance Landscape Designer and Art Craft Designer. She is always willing to make extra efforts and like a challenge to develop the creativity to design better environment for people and nature in sustainable manner beyond the traditional design.
COLLABORATION
Collaboration is the important key of success for the project. Once we examine the components of the project we assemble the team members that are required for the project and establish the best team. We work as one team with experts in each field beyond the border of different expertise. Depending on the project the team includes the various professionals such as landscape architects, architects, civil engineers, aquatic engineer, environmental engineer, local landscape architects, architects and civil engineers, theming consultant, economist, environmental engineering, computer graphic animators, lighting and fountain show consultant, show designers, entertainment creators, interactive educational program consultants etc. And, clients are the important team members. We work closely with the clients to make their visions and investments successful and realize in sustainable manner.
We have a wide-range professional network and have a capability to assemble the best team for each project.
Example of Expertise Fields to assemble the team:
Landscape Architects & Planners
Architects
Interior Designers
Civil Engineers
Aquatic Engineers
Environmental Engineers
Biologists
Surveyors
Graphic Designers
Economists
Financial Analysts
Themed Concept Consultants
Computer Graphics Animators
Lighting and Fountain Show Designers
Show / Entertainment Designers and Creators
Interactive Educational Program Consultants
Local Expertise for international Projects, etc.
AWARDS
Honors & Award
| | |
| --- | --- |
| 2011 Florida ASLA Annual Design Awards Honor (Category: Planning & Analysis) Khedive's Cairo | 2011 |
| 2010 Florida ASLA Annual Design Awards Honor (Category: Planning & Analysis) Port Ghalib Maritime Park Complex | 2010 |
| 2009 Florida ASLA Annual Design Awards Honor (Category: Planning & Analysis) Port Ghalib Lagoon | 2009 |
| 2009 Florida ASLA Annual Design Awards Merit (Category: Institutional) Nova Southeastern University Master Plan | 2009 |
| 2005 Florida ASLA Annual Design Awards Honor (Category: Institutional) Nova Southeastern University, Jim and Jan Moran Family Center Village | 2005 |
| National ASLA Honor Award at Cornell University | 1998 |
| Faculty Citation in Recognition of Outstanding Achievement at Cornell University | 1998 |
| James Rose Center Design Award at Cornell University | 1995 |
| Housing Design Competition for "Eric Satie's House" Work of Merit | 1993 |
| International Public Design Competition NAGOYA'92 Gold Prize | 1992 |
| Tsuchiya Prize for most outstanding graduation thesis and school records Thesis title: Development of The Higher education for Women in the United States and Vassar College | 1989 |
| College of Humanities and Sciences Merit Scholarship at Nihon University | 1986 – 1988 |